I decided to join one more Schnitzle & Boo mini swap and this is what evolved.
My partner mentioned she liked the
Lizzie House
Meadow quilt.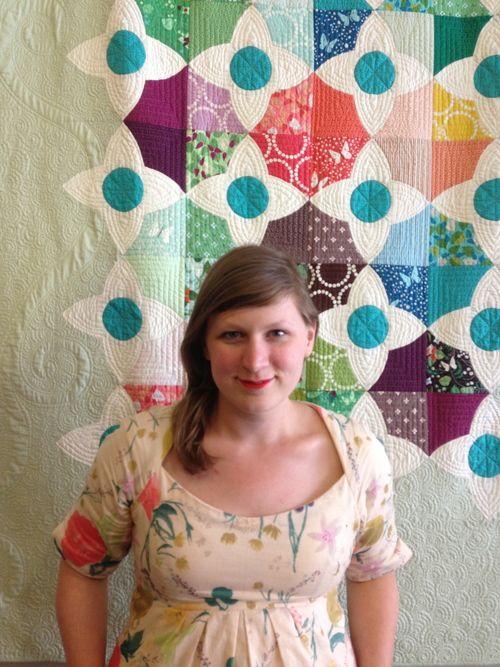 Since I haven't taken her workshop and her pattern wasn't available, I seriously contemplated making my own version. But, then I remembered my friend, Lindsey at Happier Than a Bird, using a pattern for a pillow cushion that she had made awhile back.
Palatina Pillow
I shot her a quick message and she directed me to the the
Palatina Pillow
from
There's a Thread
.
I think the one thing that intrigues people the most with the Lizzie House Meadow quilt is the colors in the background. I knew I wanted to switch the original idea of the low volume at the "back" of her pillow, behind the appliques. I instead wanted to move the low volumes to the front so that the colors revealed that cool secondary shape.
I chose the Cotton & Steel Basics fabric line to get COLOR!!
Here is my confession. Their fabric lines tend to not really "fit" me. I like them, but generally can't see myself using them....until I bought their Basics line!!!
The big, giant DISLIKE my partner had was pink. She said NO PINK!!!
So I pulled as much pink from this GORGEOUS Cotton & Steel basics bundle as I could. I really worried she wouldn't like the purples I left in, but I felt that the mini needed their "cool" tones for balance.
I used the whites and taupe fabrics of my crosses.
I decided to use cardboard to secure the edges of the crosses while I hand appliqued them.
When I was finished, I cut from behind, close (a bit more than 1/4") to the seams on the back and then pulled the cardboard out.
I do not regret it. One bit.
The quilting hardly showed up on the linen backing. I've been feeling lately that if you plan on doing intricate negative space quilting, don't use linen as a background!
I love using a black and white binding on colorful or rainbow quilts!
The quilt label is the circle of Cotton & Steel basics bundle.
I sent along the mini with this coordinating hexie pincushion caddy.
More details
HERE
.
Quilt Stats:
Measures: 18" Square
Pattern: Palatina Pillow by There's A Thread
Fabrics: Cotton & Steel Basics and Essex Linen
Quilting: Matchstick with Gutermann Thread on Babylock Symphony
I also made a Daysail version as a gift
HERE
.
But I still have a serious hankering to make a larger version with the Cotton & Steel Basics leftovers!!